Meet the luminaries and visionaries who are at the forefront of robotics innovation. Our distinguished speakers bring a wealth of knowledge, experience, and insights from various facets of the robotics industry.
They will share their expertise, breakthroughs, and perspectives, offering attendees a unique opportunity to delve deep into the world of robotics. Dive into their sessions to gain a deeper understanding of the current trends, challenges, and future possibilities in the realm of robotics.
Prof. Aude Billard
Learning Algorithms and Systems Laboratory (LASA), EPFL
Aude Billard is Full Professor and head of the LASA laboratory at the School of Engineering at the EPFL. She is President-Elect and Vice-President of Publication Activities for the IEEE Robotics and Automation Society and the Head of the National Thematic Network in Robotics, as well as Research Council Member at the Swiss National Science Foundation
Prof. Billard holds a BSc and MSc in Physics from EPFL (1995) and a PhD in Artificial Intelligence (1998) from the University of Edinburgh. She was the recipient of the Intel Corporation Teaching award, the Swiss National Science Foundation career award in 2002, the Outstanding Young Person in Science and Innovation from the Swiss Chamber of Commerce and the IEEE-RAS Best Reviewer Award. Her research spans the fields of machine learning and robotics with a particular emphasis on learning from sparse data and performing fast and robust retrieval. Her work finds application to robotics, human-robot / human-computer interaction and computational neuroscience. This research received best paper awards from IEEE T-RO, RSS, ICRA, IROS, Humanoids and ROMAN and was featured in premier venues (BBC, IEEE Spectrum, Wired).
Prof. Dr. Roland Siegwart
Department of Mechanical and Process Engineering, ETH Zurich
Roland Siegwart (1959) is professor for autonomous mobile robots at ETH Zurich, founding co-director of the technology transfer center Wyss Zurich and board member of multiple high-tech companies. He studied mechanical engineering at ETH Zurich, spent ten years as professor at EPFL Lausanne (1996 – 2006), held visiting positions at Stanford University and NASA Ames and was Vice President of ETH Zurich (2010 -2014). He is IEEE Fellow and recipient of the IEEE RAS Pioneer Award, IEEE RAS Inaba Technical Award and the Ernst-Blickle-Preises. He is among the most cited scientist in robots world-wide, co-founder of more than half a dozen spin-off companies and a strong promoter of innovation and entrepreneurship in Switzerland.
His interests are in the design, control and navigation of flying, wheeled and walking robots operating in complex and highly dynamical environments.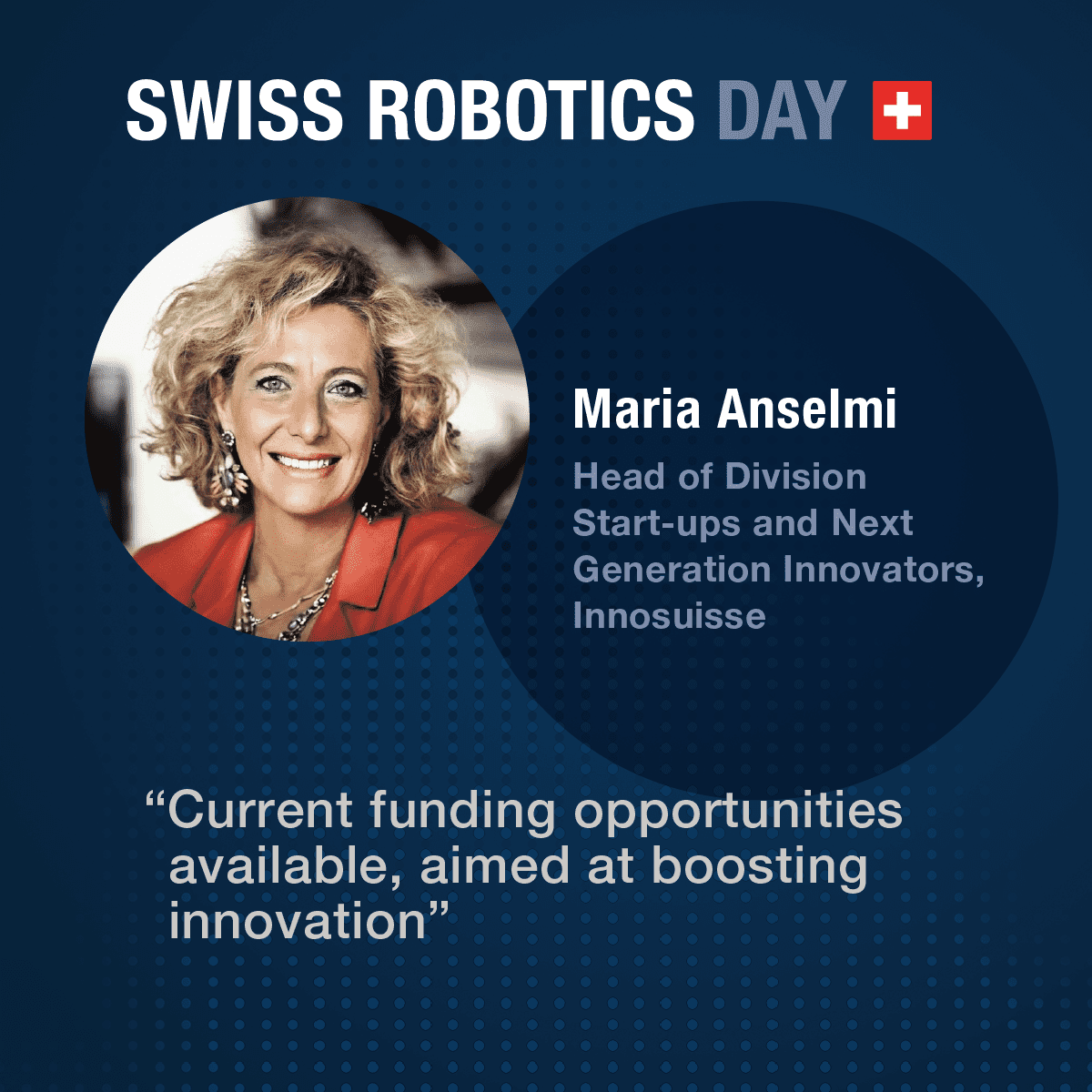 Maria Anselmi
Head of Division Start-ups and Next Generation Innovators, Innosuisse
Maria Anselmi, the new Head of Startups and the Next-Generation Innovators Division at Innosuisse, is an Italian executive with a long career path in business and managing businesses worldwide in countries such as Italy, Slovenia and the US. Most recently, she spent more than 19 years at Stockholm-based Data & Analytics company Bisnode, where she held various top leadership roles. In 2021 Bisnode was acquired by Dun & Bradstreet, a global provider of business decisioning data and analytics. Following the acquisition, Anselmi became the Vice President of Global Data Partnerships for the parent company.
She also brings entrepreneurial expertise, having created one of the first Italian and European payment sites in the 1990s and worked with startups and young companies for more than ten years, including as an Innosuisse special coach. Her business acumen as well as international and digital and data strategy experience thus complement the expertise of the other members of the Innosuisse committee.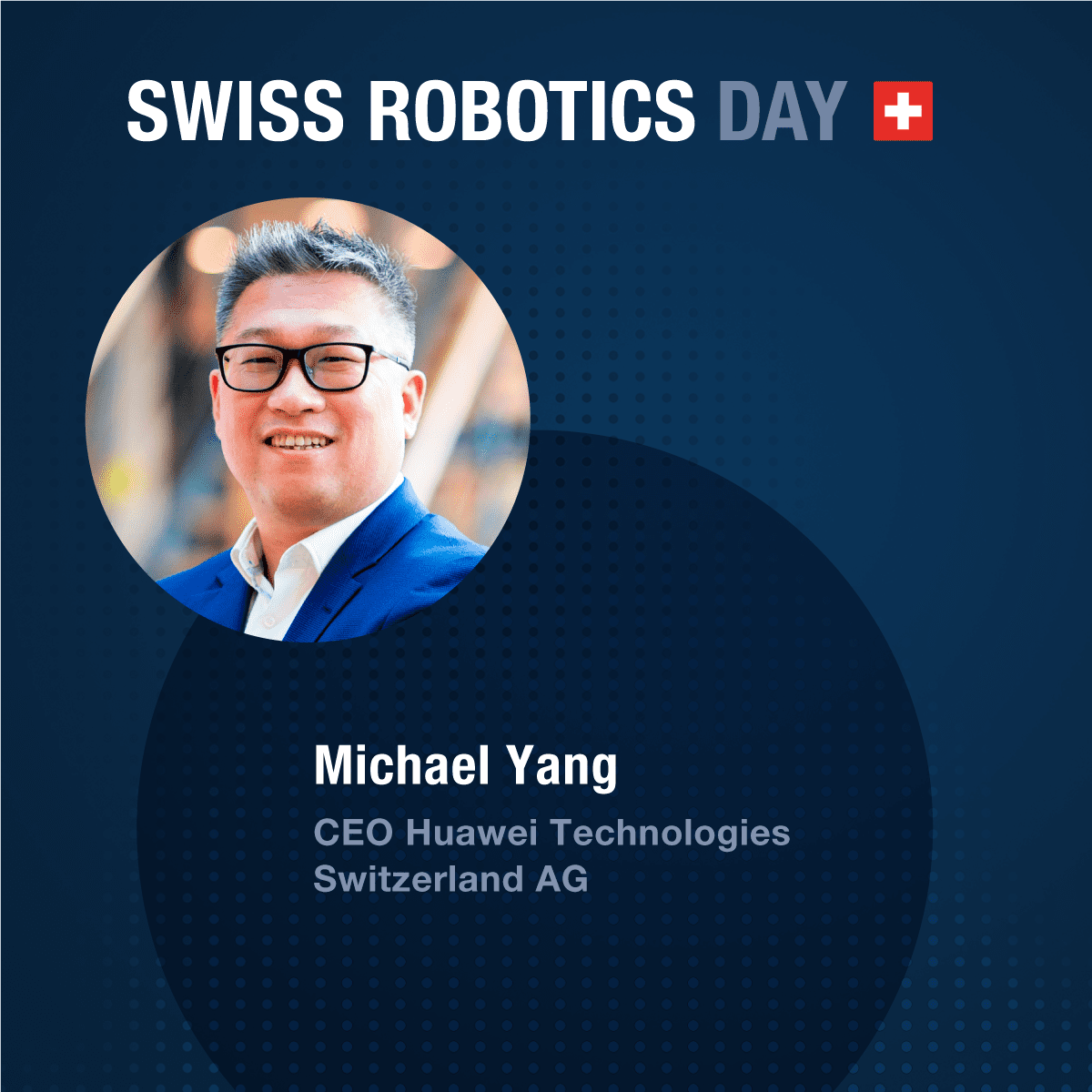 Michael Yang
CEO Huawei Technologies Switzerland AG (since end of 2022)
Michael Yang worked as an Account Service Manager at Motorola in China from 2005 onwards. He joined Huawei in 2008 and has served as CEO in West Africa and the Netherlands, among others.
In Germany, he was responsible for Deutsche Telekom for several years. From 2021-2022, he headed the Berlin office as Chief Representative. Since 2022, Michael serves as CEO of Huawei Switzerland.
Michael Yang holds a degree from Beijing Foreign Studies University.
Dr. Al Rizzi
Chief Technology Officer
Al Rizzi has 25 years of experience building a menagerie of cool dynamic robots. As CTO of the Institute, he guides the technical fearlessness and fundamental thinking that underlies the organization's mission.
Previously, Al served as Chief Scientist at Boston Dynamics, where he directed research targeted at novel locomotion and mobile manipulation systems, including LittleDog, BigDog, WildCat, SandFlea, and Spot. Before joining Boston Dynamics he was a member of the faculty of the Robotics Institute at Carnegie Mellon University.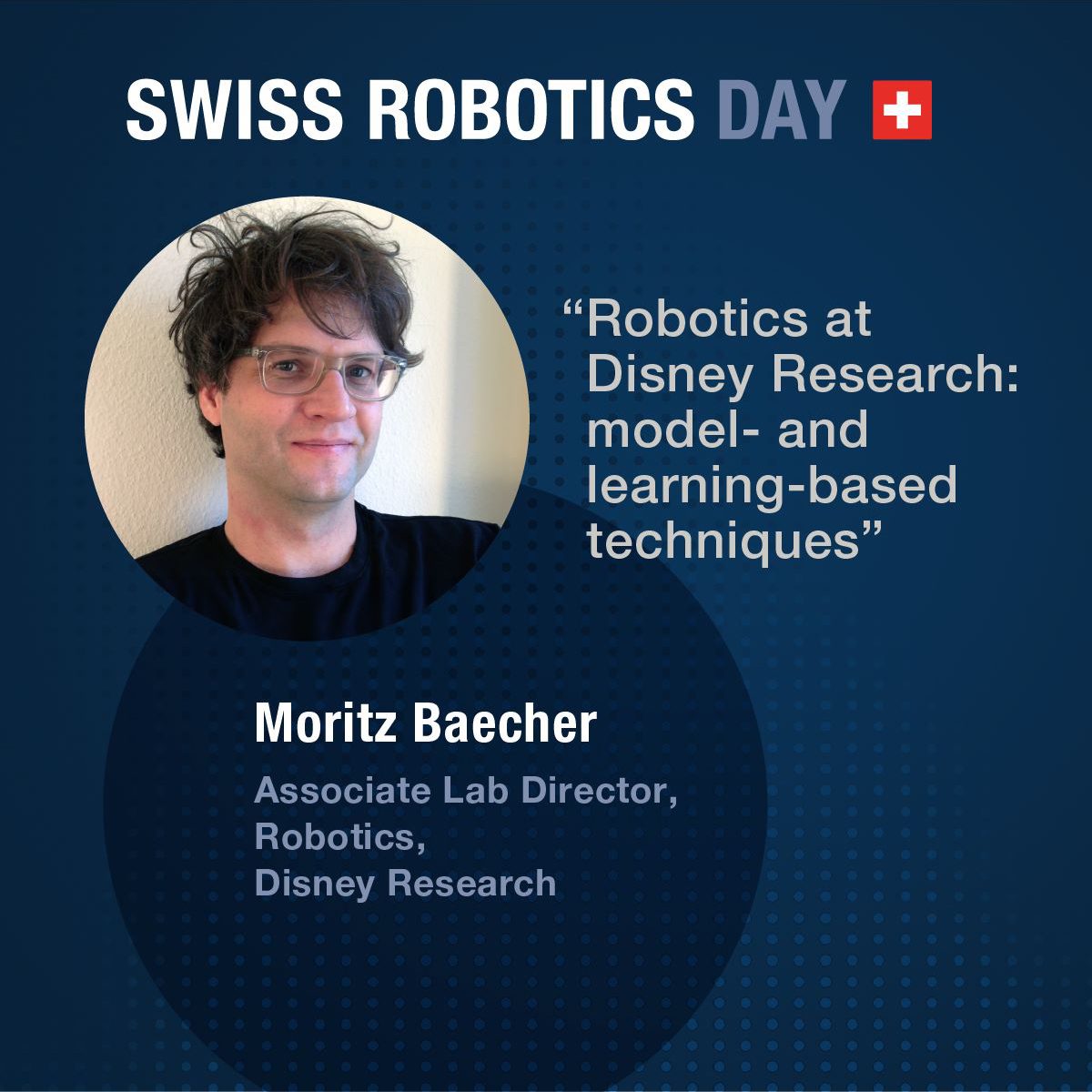 Dr. Moritz Baecher
Associate Lab Director, Robotics, Disney Research
Moritz Bächer is the Associate Lab Director of Disney Research at Walt Disney Imagineering, where he leads a strategic program focusing on the development of novel model- and learning-based tools for the design and control of believable robotic characters. His core expertise is the optimal design and control of both soft and rigid systems, using a combination of differentiable simulation and reinforcement learning. Prior to joining Disney, he received his Ph.D. from the Harvard School of Engineering and Applied Sciences and his master's degree from ETH Zurich.
 Title: Robotics at Disney Research: model- and learning-based techniques
Prof. Dr. Melanie Zeilinger
Department of Mechanical and Process Engineering, ETH Zurich
Melanie Zeilinger is an Associate Professor at the Department of Mechanical and Process Engineering at ETH Zurich, where she is leading the Intelligent Control Systems group at the Institute for Dynamic Systems and Control. She received the diploma in Engineering Cybernetics from the University of Stuttgart in Germany in 2006 and the Ph.D. degree in Electrical Engineering from ETH Zurich in 2011. From 2011 to 2012 she was a postdoctoral fellow at the École Polytechnique Fédérale de Lausanne (EPFL), Switzerland. From 2012 to 2015 she was a Postdoctoral Researcher and Marie Curie fellow in a joint program with the University of California at Berkeley, USA, and the Max Planck Institute for Intelligent Systems in Tuebingen, Germany. From 2018 to 2019 she was a professor at the University of Freiburg, Germany. Her awards include the ETH medal for her PhD thesis, an SNF Professorship, the Golden Owl for exceptional teaching 2022 and the European Control Award 2023. She is one of the co-founders of the new Conference on Learning for Dynamics and Control (L4DC). Her research interests include learning-based control with applications to robotics and human-in-the-loop control.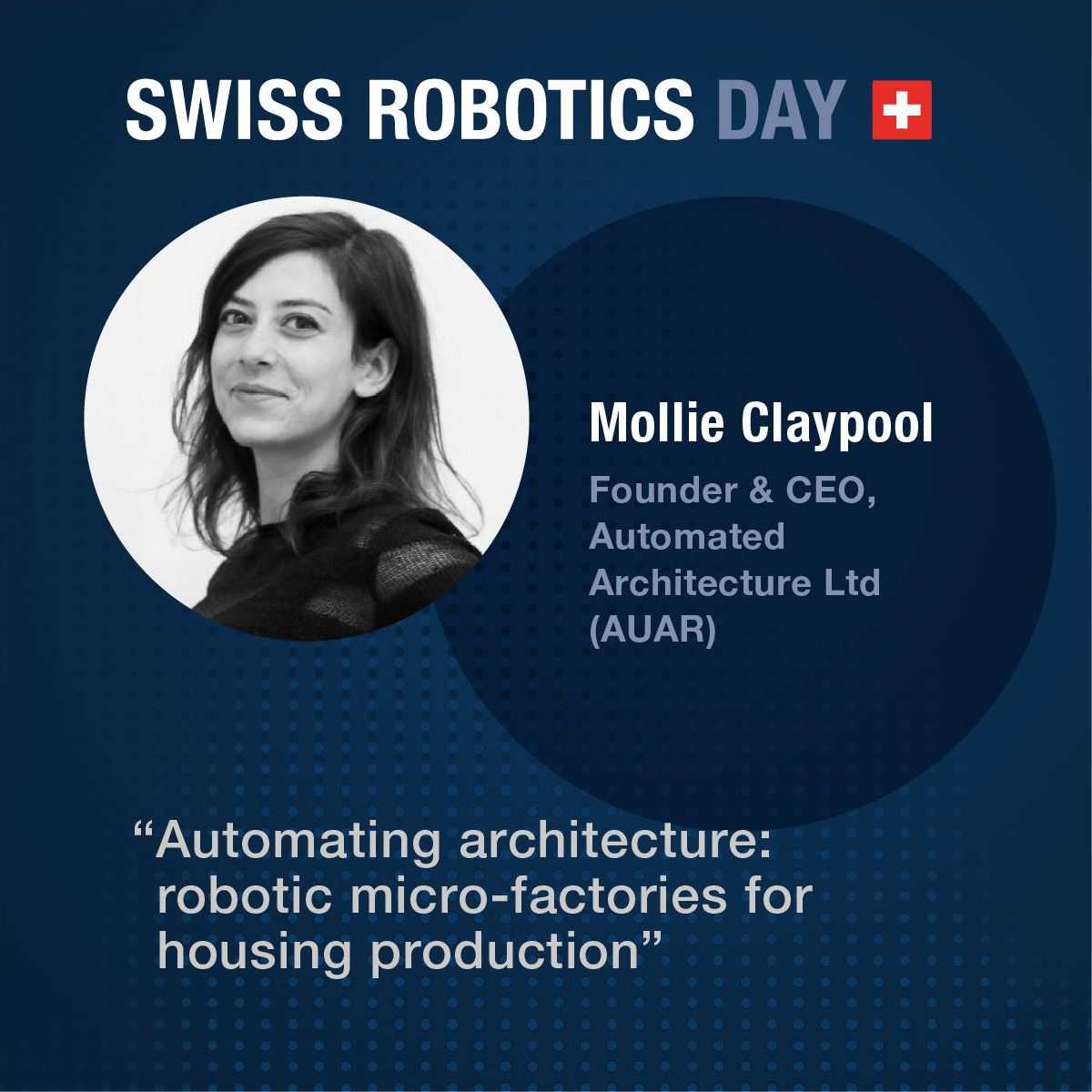 Dr. Mollie Claypool
Founder & CEO, Automated Architecture Ltd (AUAR)
Mollie is Founder and CEO of Automated Architecture (AUAR). AUAR is building a distributed manufacturing platform for sustainable timber housing using AUAR's unique approach to robotics and supply chain innovation.
 As a thought leader working at the intersection of architectural design and automation, Mollie believes in radically changing the way we build so we can change the way we live. Her ethos is that radical change in housing production using automation must come from a fundamental rethink of both what and how we build. Key to this for Mollie is issues of labour as well as material and social sustainability. Mollie is co-author of Robotic Building: Architecture in the Age of Automation (2019) and The Digital in Architecture: Then, Now and in the Future (2019). Alongside AUAR Mollie has been an Associate Professor in Architecture at The Bartlett School of Architecture, UCL, where she has led the award-winning research lab AUAR Labs which specialises in automation. She was previously faculty at the AA School of Architecture. She has given keynotes and talks internationally, including at ACADIA (The Association for Computer Aided Design in Architecture), University of Stuttgart, Penn State University and Hong Kong University. Core to her work is an activist mindset, having been involved for many years in environmental, housing and maternal rights activism.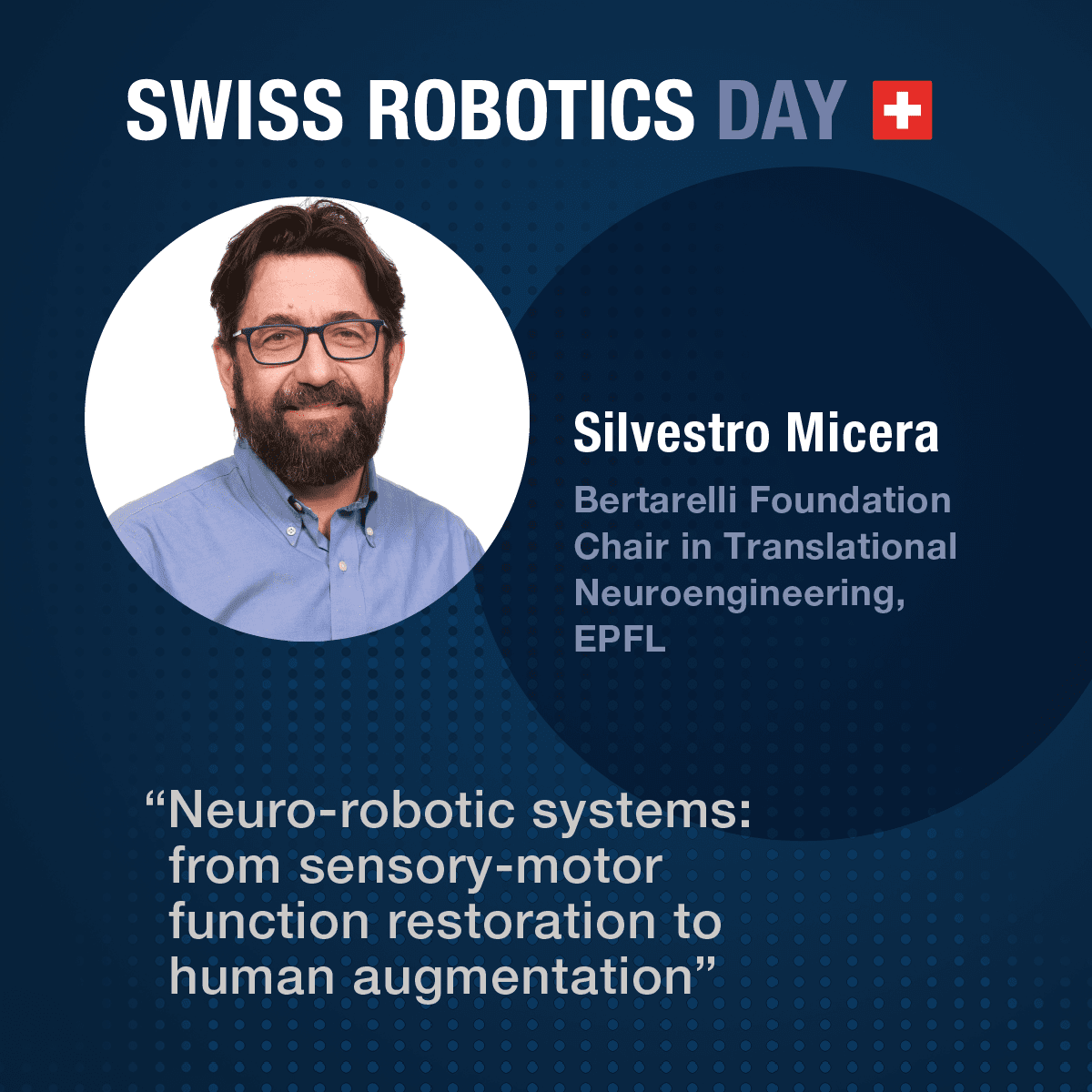 Prof. Silvestro Micera
Bertarelli Foundation Chair in Translational Neuroengineering, EPFL
Silvestro Micera is currently Professor of Bioelectronics at the Scuola Superiore Sant'Anna (SSSA, Pisa, Italy) and at the Ecole Polytechnique Federale de Lausanne (Lausanne, Switzerland) where he is holding the Bertarelli Foundation Chair in Translational NeuroEngineering. He received the University degree (Laurea) in Electrical Engineering from the University of Pisa, in 1996, and the Ph.D. degree in Biomedical Engineering from the Scuola Superiore Sant'Anna, in 2000. From 2000 to 2009, he has been an Assistant Professor of BioRobotics at the Scuola Superiore Sant'Anna. In 2007, he was a Visiting Scientist at the Massachusetts Institute of Technology, Cambridge, USA with a Fulbright Scholarship. From 2008 to 2011 he was the Head of the Neuroprosthesis Control group and Group Leader at the Institute for Automation, Swiss Federal Institute of Technology, Zurich, CH. He was the recipient of the "Early Career Achievement Award" and of the "Technical Achievement Award" of the IEEE Engineering in Medicine and Biology Society in 2009 and 2021, respectively.
Dr. Micera's research interests include the development of neuroprostheses based on the use of implantable neural interfaces with the central and peripheral nervous systems to restore sensory and motor function in disabled persons. In particular, he is currently involved in translational experiments for hand prosthesis control in amputees, and the restoration of vestibular function, grasping and locomotion in different neurological disorders.
He is author of more than 400 WoS peer-reviewed papers and several international patents. He is also member of several editorial boards of peer-reviewed journals in the fields of biomedical and neural engineering.
 Title: Neuro-robotic systems: from sensory-motor function restoration to human augmentation
PANEL: Challenges Encountered in Fostering Innovation in Switzerland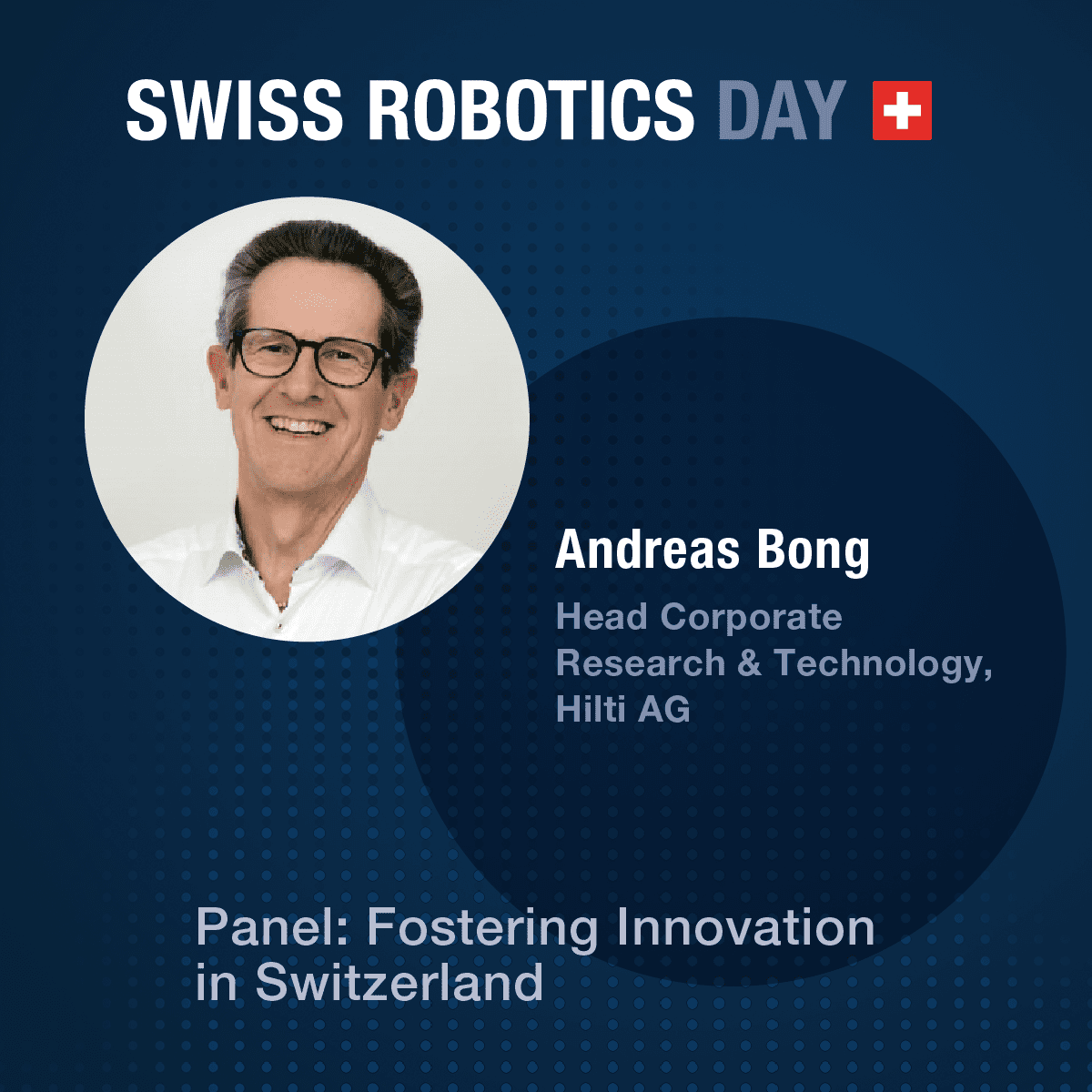 Dr.-Ing. Andreas Bong
Head Corporate Research & Technology, Hilti
Andreas graduated 1985 with a MSc in Mechanical Engineering from RWTH Aachen University and finished his PhD in 1990 based on research at WZL of RWTH Aachen University in 1990. 
After starting his career industrial career at former FAG Kugelfischer, Andreas joined in 1993  Hilti Corporation in Liechtenstein where he hold various roles in engineering and business management. In 2005 Andreas assumed his current role as Head of Corporate Research &Technology.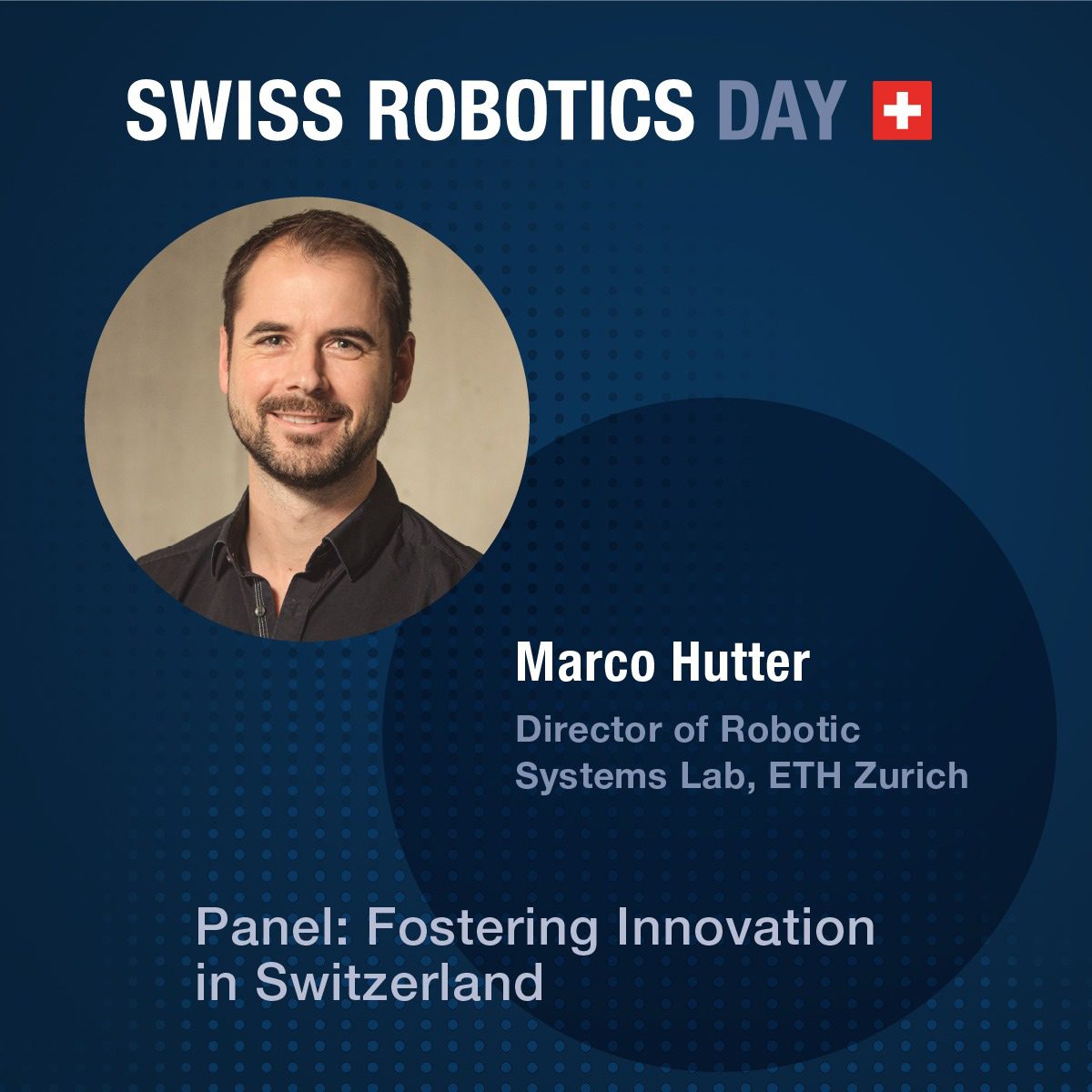 Prof. Dr. Marco Hutter
Director of Robotic Systems Lab, ETH Zurich
Marco is a professor for robotic systems and director of the center for robotics at ETH Zurich. His research interests are in the development of novel machines and machines and their intelligence to operate in rough and challenging environments. He is part of the National Centre of Competence in Research (NCCR) Robotics and NCCR Digital Fabrication and PI in various international projects (e.g. EU NI, DigiForest) and challenges. Moreover, Marco is co-founder of several ETH Startups such as ANYbotics AG or Gravis Robotics AG, targeting the commercialization of legged robots and autonomous construction equipment.
Prof. Dr. Agathe Koller
Head of Institute for Lab Automation and Mechatronics, OST – Ostschweizer Fachhochschule
Agathe Koller studied Microengineering at the EPF Lausanne (CH) and, within a one-year exchange program, Electrical and Computer Engineering at Carnegie Mellon University in Pittsburg (USA). She got a Master's degree in Genie Industriel from the Institute National Polytechnique in Grenoble (F) and earned a PhD in robotics from the ETH Zurich (CH). She then worked for five years in the development of robotics platforms at Tecan, an internationally active laboratory automation company in Männedorf. She then became a professor of robotics and automation at the University of Applied Sciences in Rapperswil, also named OST – Ostschweizer Fachhochschule.
 Agathe Koller is head of the Institute for Lab Automation and Mechatronics (ILT) as well as the Medtech Lab Competence Center at OST. Her main research topics include collaborative robotics and automation in life sciences. The institute ILT is specialized in robotics, industrial automation, autonomous systems, life sciences and medical engineering.
Agathe Koller is the program director for the Master of Science in Engineering with its eleven profiles in engineering, construction and planning. She is also expert and member of the Scientific Advisory Board of the Swiss Academy of Engineering Sciences (SATW).
"Robots are no longer limited to specific types of applications. They will positively impact many areas in daily life."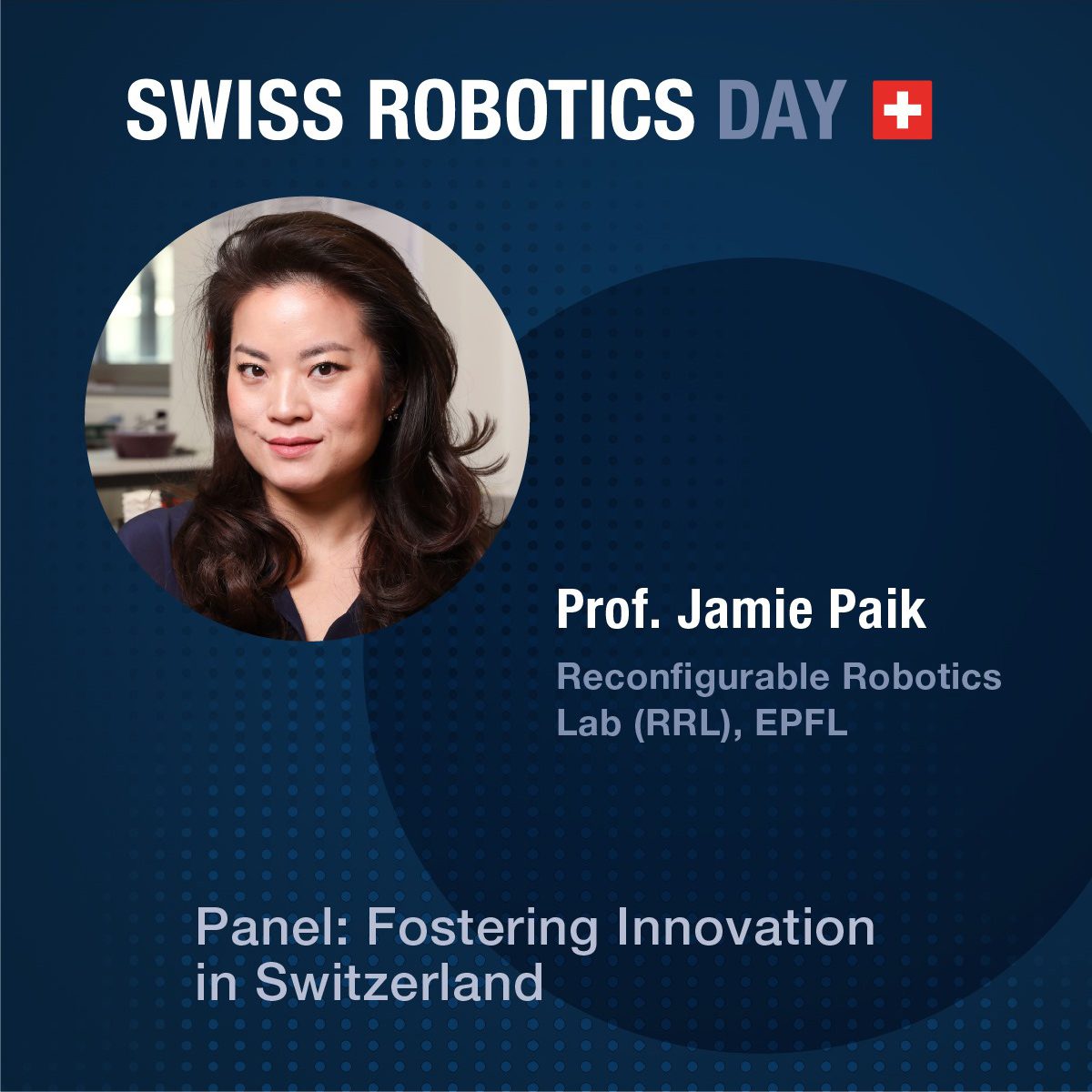 Prof. Jamie Paik
Director of Reconfigurable Robotics Laboratory, EPFL
Prof. Jamie Paik is director and founder of Reconfigurable Robotics Lab (RRL) of Swiss Federal Institute of Technology (EPFL) and a core member of Swiss National Centers of Competence in Research (NCCR) Robotics consortium. RRL's research leverages expertise in design and advanced manufacturing toward reconfigurable robotic platforms that push the physical limits of material and mechanisms.
Her latest research effort is in soft robotics and self-morphing Robogami (robotic origami). Robogami transforms autonomously its planar shape to 2D or 3D by folding like the paper art, origami. Soft material robots and robogamis are designed to be interactive with the users and their environments through both innate and active reconfigurations. Such characteristics of the RRL's robots have direct applications in medical, automobile, space, communication, and wearable robots.
While this novel technology has been published in multiple academic journals such as in Soft Robotics Journal, IEEE Transactions in Robotics, Nature, and Science, RRL's spin-offs, MIROS and Foldaway-Haptics, have pushed the boundaries of the industrial applications of these robots as seen in TED conferences 2019 and 2023. One of the robogamis was a part of Mercedez's 2020 concept car, AVTR, presented during CES 2020, and MIROS in CES 2023.
Statement, message
Reconfigurable Robots for Physical Interactions
A truly ubiquitous environment is where human-machine interactions are intuitive, reliable, and compatible. This requires an intelligent platform that is versatile and adaptable to evolving tasks and dynamic environments. While there are extensive efforts in addressing this challenge through massive data and learning algorithms, there is yet to be a cohesive solution to improve the actual physical interactions. Recent developments in soft robots with their unconventional material-based solutions and modular robots with a multitude of configurations propose possible avenues to extend the capacities of robotics. This talk will highlight the recent progress in soft-material robots and reconfigurable origami robots that aim at achieving comprehensive solutions toward diverse "softer" human-robot applications.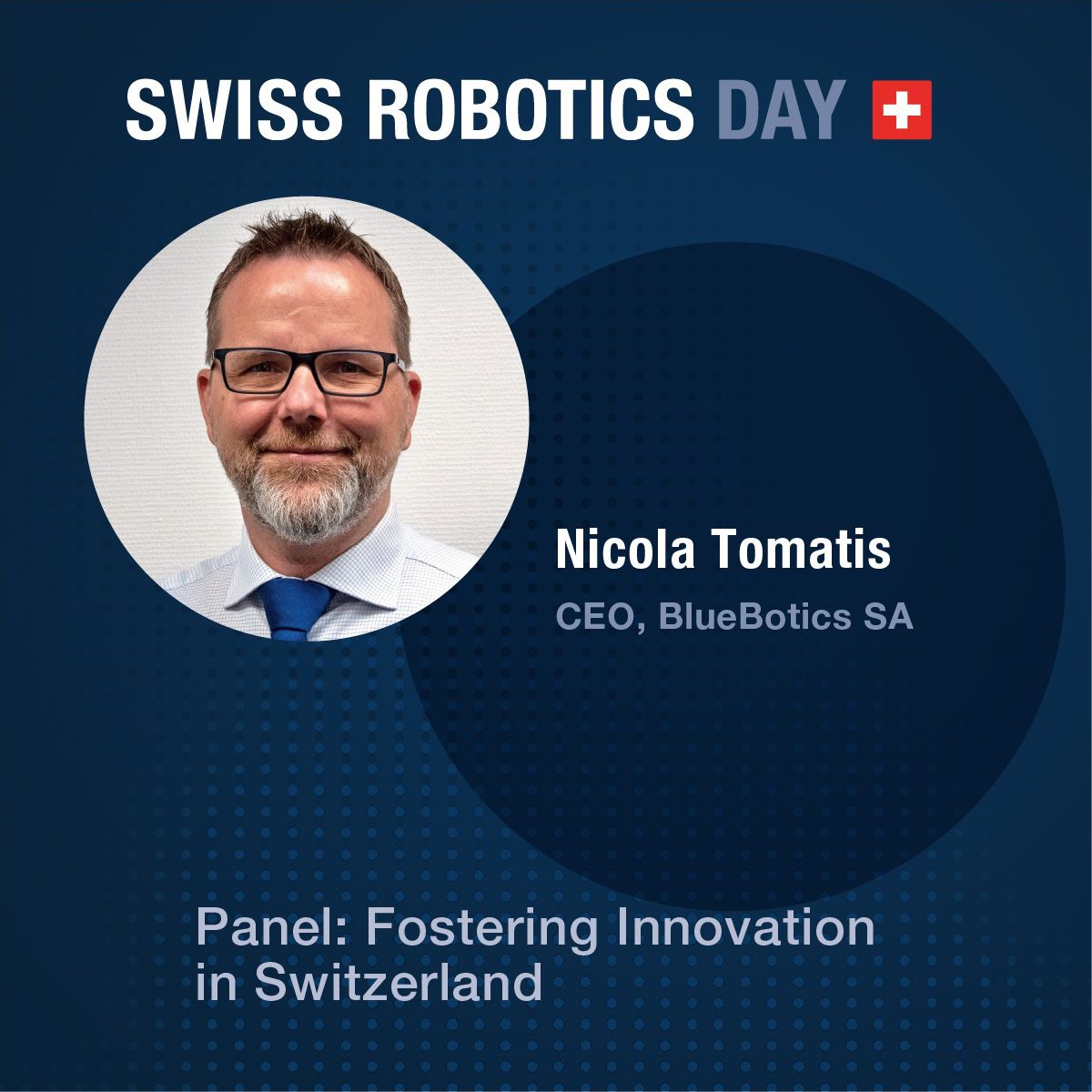 Dr. Nicola Tomatis
CEO, BlueBotics SA
Nicola Tomatis (1973) received his M.Sc. in computer science in 1998 from the Swiss Federal Institute of Technology (ETH) Zurich and his Ph.D. in robotics in 2001 from the Swiss Federal Institute of Technology (EPFL) Lausanne.
From 2001 to 2005 he had a part time position as senior researcher with the Autonomous Systems Lab, EPFL (now ETH). He has authored/co-authored more than 40 book chapters, journal articles and conference papers.
During 2001 he joined BlueBotics SA as R&D manager. He then became CEO in 2003 and entered the Board of Directors in 2015.
Nicola received the IEEE Early Career Award in Robotics and Automation (2008), he has been listed in the 300 most influential persons of Switzerland (2010 and 2012), and he seats in the Board of several startups.
Statement:
Switzerland is extremely strong in creating early-stage innovation in general, and even more in the field of robotics. Where we are unfortunately less good, is in bringing this great innovation to the market.
For a long time, the lack of investments was pointed as one of the reasons for this weakness. I personally think this is just a minor part of the game.
To improve the industrial use of robotic technology, and especially the transfer from innovation to industry, I think we need to motivate research to collaborate more with existing Swiss companies, we must motivate more people to be entrepreneurial in general, and we must educate young entrepreneurs to focus more on brining value to the market, and less on the typical idea-investment-exit American dream.
Short highlights from three innovative projects
Anca Rusu
Programme Coordinator, Innovation Booster Robotics | Powered by Innosuise
Anca Rusu plays a pivotal role in coordinating Innovation Booster Robotics, an innovative program generously funded by Innosuisse. his initiative is driven by the overarching goal of not only accelerating innovation but also discovering new ways to solve problems. Anca brings a wealth of experience in coordinating technology-related projects. At the heart of her responsibilities is the organization of Swiss Robotics Days, a flagship event in the field. In her capacity, she not only oversees the activities of the Innovation Booster program but also contributes significantly to the development and advancement of the Swiss robotics ecosystem.
Anca's professional journey encompasses the management of projects related to risk governance for emerging technologies and expertise in communication. As a project manager at the International Risk Governance Center (IRGC), she managed numerous cross-functional projects focused on applying risk governance concepts to various sectors for the purpose of bridging the gap between science, technological development, policymaking and the public. Her responsibilities spanned the organization of high-impact events that convened key stakeholders, such as government bodies, corporations, and academic institutions. Additionally, she played a central role in fostering collaboration and provided invaluable support in the coordination and management of tasks for two prominent European projects.
Beyond her project management skills, Anca's commitment extends to research, where her focus centers on the pivotal role of organizational communication in the decision-making processes surrounding cutting-edge technologies. She emphasizes the critical importance of responsible communication in shaping the trajectory of technological advancements.
Luca Randazzo
CEO-CTO, Emovo
Dr. Luca Randazzo is an engineer and entrepreneur working in the field of disability.
He is currently CEO at Emovo Care (https://emovocare.com/ ), a medical device company developing exoskeletal devices with the ultimate goal of supporting "therapy while living" – to improve clinical benefits through more intensive and meaningful therapy directly blended with daily living.
He is also the co-founder of the Hackahealth association (https://www.hackahealth.ch/), – a living community which organizes yearly hackathons and a university course at EPFL (https://www.epfl.ch/education/educational-initiatives/discovery-learning-program-2/interdisciplinary-projects/assistive-technologies-challenge/), fighting the social constructs of disability through sharing and togetherness.
Luca's involvement in the field of disability comes from his personal experience with his sister who has cerebral palsy (https://actu.epfl.ch/news/we-need-to-empower-people-with-disabilities-2/ ). He strives to transform the perception of disability through play, inclusion, and technology.
Luca worked at NASA Jet Propulsion Laboratory (JPL) in Pasadena (California – US), and at the Istituto Italiano di Tecnologia (IIT) in Torino (Italy).
He holds a Ph.D. in Robotics, 2x M.Sc. degrees in Mechatronics and Automation engineering – respectively, and a B.Sc. in Computer and Electrical Engineering.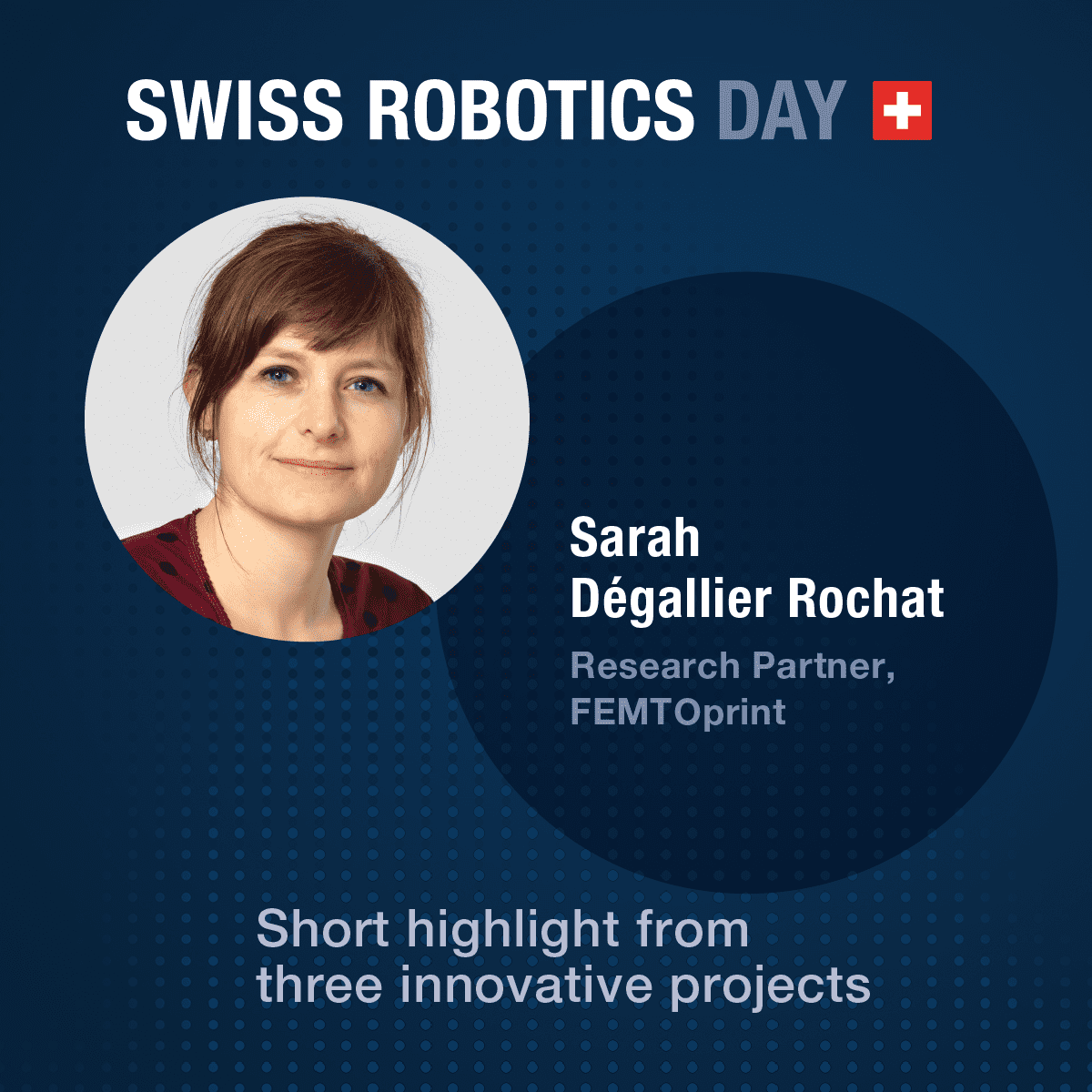 Prof. Dr. Sarah Dégallier Rochat
Research Partner, FEMTOprint
Sarah Dégallier Rochat is the Head of the strategic thematic field « Humane Digital Transformation" at the Bern University of Applied Sciences (BFH). She is a researcher at the Institute for Human-Centered Engineering (HuCE) and the co-leader of the Computer Vision and Virtual Reality Lab (cpvrLab). She holds a BSc and MSc in Mathematics and a PhD in Robotics from EPFL. She received the "Industry 4.0 Shapers" Award in 2019.
As the Head of Humane Digital Transformation, her goal is to foster a development of digital technologies that is centered on the human needs and that aims at creating an inclusive and equitable future. Her personal research focuses on the participative development of inclusive human-machine interfaces and on the upskilling of the workforce in production settings. With her spin-off AutoMate Robotics, she is developing flexible robotic cells that can be easily reprogrammed by non-experts for industrial applications.
Cornelius Niemeyer
Head Business Area Automation, Brütsch Elektronik AG
Cornelius Niemeyer leads the Automation business area at Brütsch Elektronik AG, providing turnkey automation solutions and special machinery for the Swiss manufacturing industry as well as automation engineering services for machinery OEMs. Prior to Brütsch Elektronik Cornelius worked in various R&D management and strategy positions for Rieter as well as for the Boston Consulting Group (BCG). Cornelius holds a PhD from ETH Zürich in Technology and Innovation Management as well as a MSc in mechanical engineering with specialization in robotics.
Short highlights from start-ups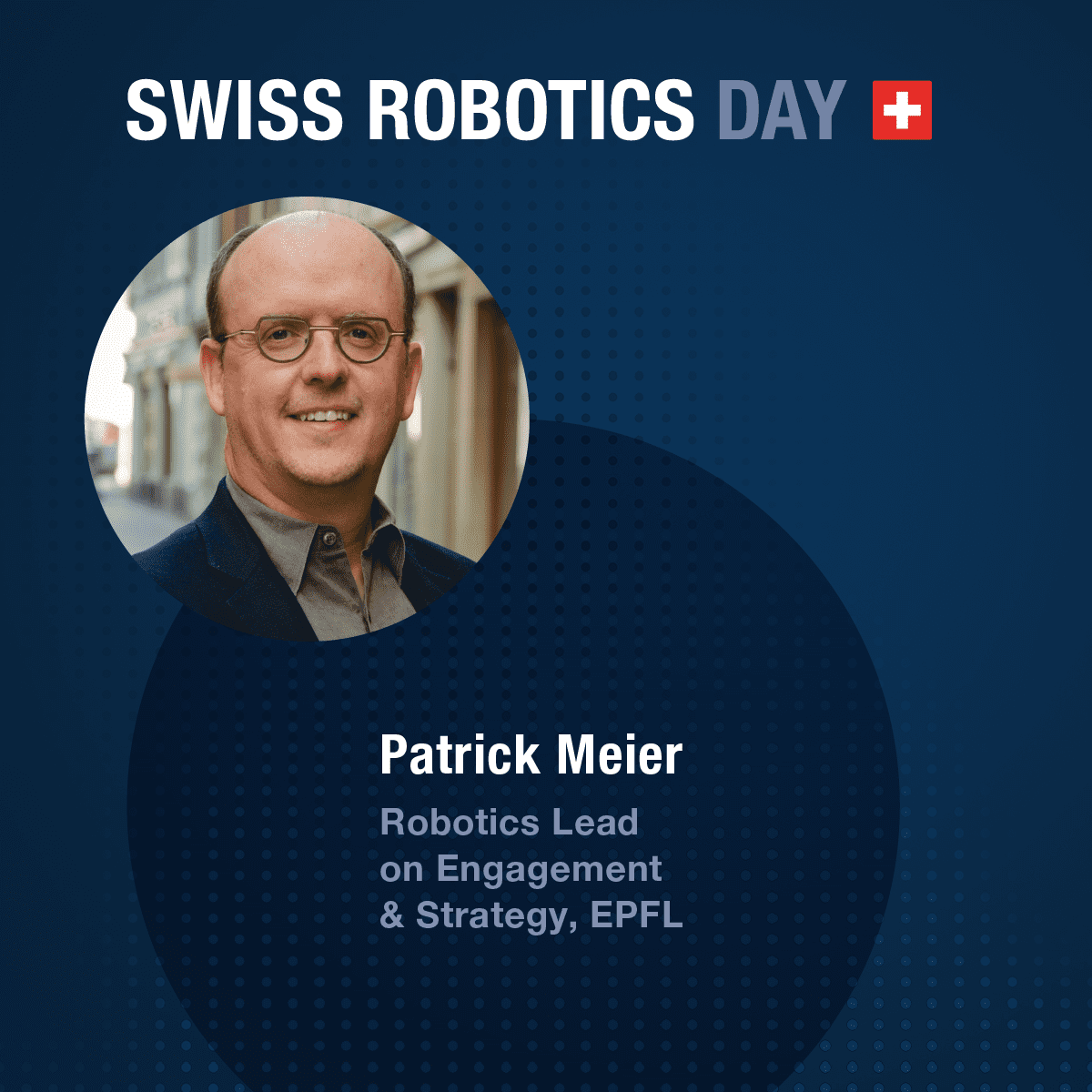 Dr. Patrick Meier
Robotics Lead on Engagement & Strategy, EPFL
Dr. Patrick Meier serves as EPFL Robotics Lead on Engagement & Strategy. He thus acts as the focal point for robotics to elevate the stature, visibility, and impact of EPFL Robotics. In addition, he provides direct guidance and support to the Innovation Booster for Robotics, where he leads the development of the Swiss Robotics Association, amongst other responsibilities.
Patrick brings 15+ years of international leadership experience at the leading edge of humanitarian technology and robotics, including 7+ years as Co-Founder and Executive Director of WeRobotics, an international tech nonprofit with labs in 40+ countries. In this capacity, he led the deployment of aerial, ground, and ocean robotics to accelerate humanitarian, health, development, environment, and conservation efforts worldwide. During this time, he and his team also incubated multiple startups in Africa, Asia, Latin America, and Europe. Before WeRobotics, Patrick co/founded and led multiple international organizations, programs, and global networks to drive innovation and social impact in the humanitarian technology space.
Patrick also served as a senior consultant to multiple UN agencies, the World Bank, the Red Cross, OSCE, OECD, Planet Labs, Meta, and dozens of other organizations. He is the author of the widely-praised book Digital Humanitarians and the co/author of 80+ articles, book chapters, conference papers, and peer-reviewed studies. Patrick has also given over 200 talks in over 40 countries, including multiple TEDx talks. His work has been featured in the New York Times, The Economist, WSJ, CNN, BBC, NPR, Wired, New Scientist, Nature and dozens of other outlets.
Patrick has been awarded fellowships at Harvard, MIT, Columbia, National Geographic, Rockefeller Foundation, and UBS Global Visionaries. He holds an MA from Columbia, a Ph.D. from The Fletcher School of Law & Diplomacy, and a Pre-Doc from Stanford.
Audrey Marullaz
Team Lead Field Engineering, ANYbiotic
Beyond her robotics degree, Audrey Marullaz has built her experience in the field working with life-saving cargo drones and revolutionary legged robots.
At ANYbotics, she leads a team of adventurous field engineers traveling the world to the most hard-to-reach places, deploying robots on industrial sites in order to prevent humans from spending time in dirty hazardous remote places.
On a journey to shape the future of human health, safety and productivity through the use of autonomous robots, she has found her special place at the intersection between engineering and human interaction. From Houston to Kuala Lumpur, from rural hospitals to power plants and train depots, she has spent years commissioning robots at new sites, training operators and building relationships around the globe.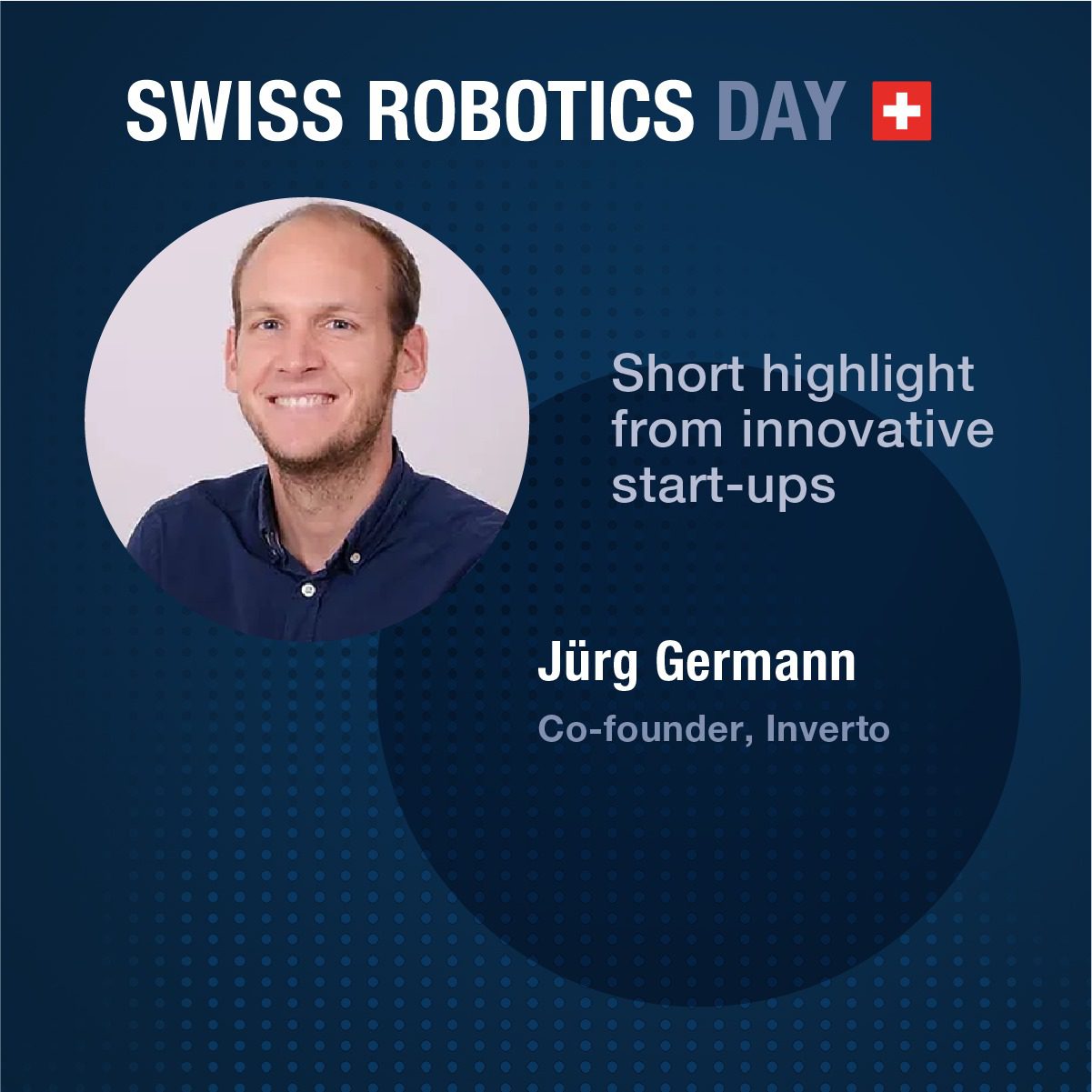 Dr. Jürg Germann
Co-founder, Inverto
Dr. Jürg Germann is co-founder and CEO of Inverto Earth AG where wetland restoration projects and corporate sustainable financing are linked through high quality data, using customised robotics tools for drones. Through that, Inverto Earth AG is dedicated to wetland restoration and positively contribute to climate, biodiversity and social impacts on coastal ecosystems.
Jürg is an expert in drone technology as well as drone operations. Over the past 12 years, Jürg worked extensively on drone technology in the lab and transferred the technology successfully to multiple countries around the globe. While at WeRobotics, he implemented the first ever drone-led Mosquito-release campaign to combat Dengue in Fiji or drone-operated Tuberculosis diagnosis in rural Nepal.
Jürg holds a PhD in Robotics from EPFL and has taught several courses at graduate level and supervised more than twenty master projects in both academia and industry.
Jürg was born and raised in the Swiss alps, and his heart beats for nature. In his spare time you find him somewhere in the mountains hiking, snowboarding or kitesurfing.
Dr. Ryan Luke Johns
Co-founder and CEO, Gravis Robotics
Ryan Luke Johns is the co-founder and CEO of Gravis Robotics, a Zurich-based startup focused on automating heavy construction equipment. He has over a decade of experience applying robotic technologies to manufacturing, construction and design, and has taught courses on robotics at Princeton University, Columbia University, the Vassar College department of Cognitive Science, and Rensselaer Polytechnic. In the 2010s, his experimental work as co-founder and principal of the design/research lab GREYSHED resulted in an array of international exhibitions and publications on the topics of augmented materiality and context-aware computational design.
Ryan holds a Bachelor of Arts in Architecture with a concentration in Mathematics from Columbia University (2009), a Master of Architecture from Princeton University (2013), and a PhD from ETH Zurich (2023). His doctoral work was developed within the Gramazio and Kohler Chair of Architecture and Digital Fabrication, and the Robotic Systems Lab—where he focused on the development of planning algorithms for the autonomous, large-scale assembly of irregular objects (e.g., stone, demolition debris) using computer-controlled hydraulic construction machines.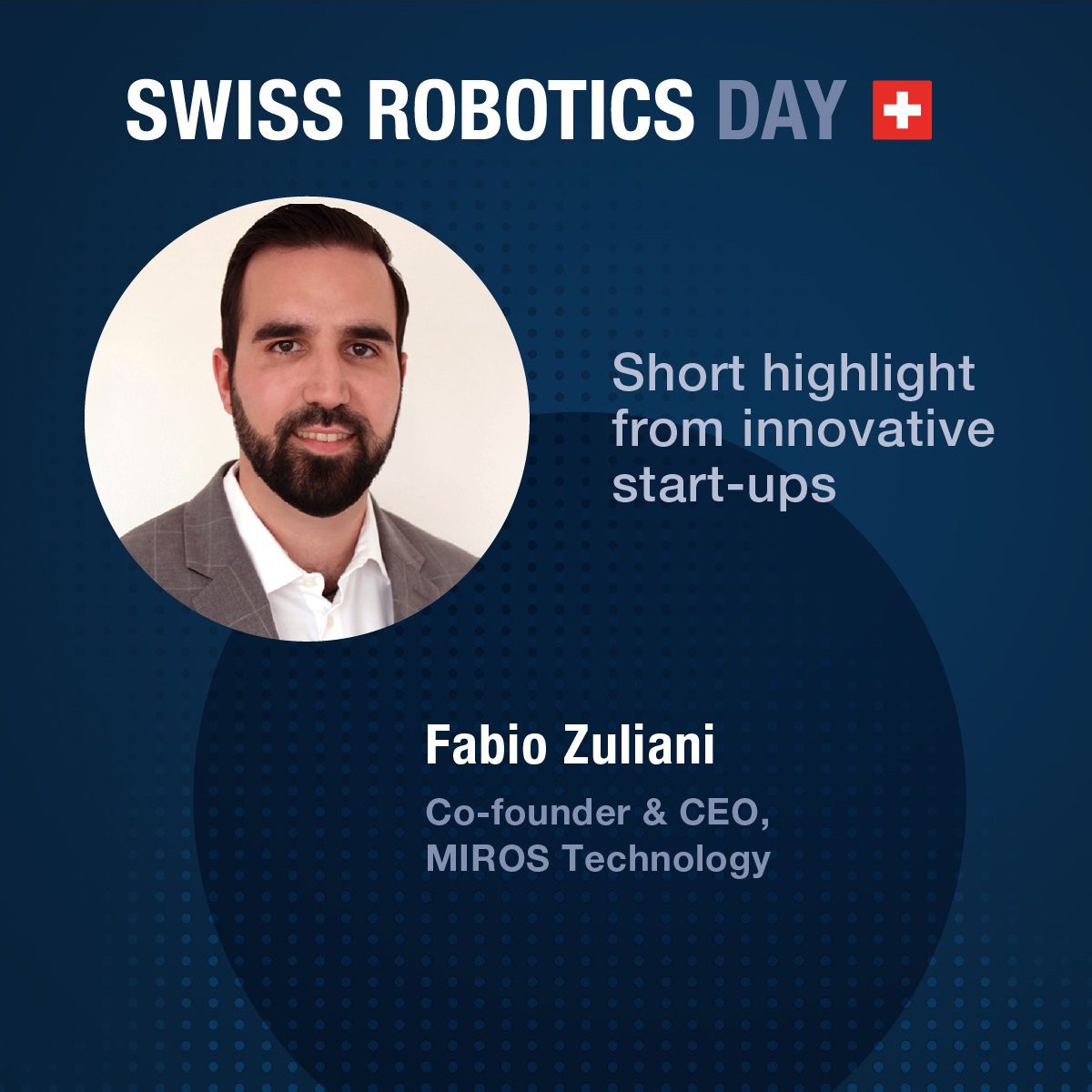 Fabio Zuliani
Co-founder & CEO, MIROS Technology
Fabio Zuliani is Co-Founder and CEO of MIROS Technology. Engineer with a passion for entrepreneurship, he pursued a PhD at EPFL keeping in mind his goal to create solutions for the physical world which became reality through smart, adaptive, and interactive spaces to build the habitat of the future.
"MIROS Technology: Smart & Adaptive Spaces"

"Smart & Adaptive Spaces will redefine the way humans live and interact with their environment."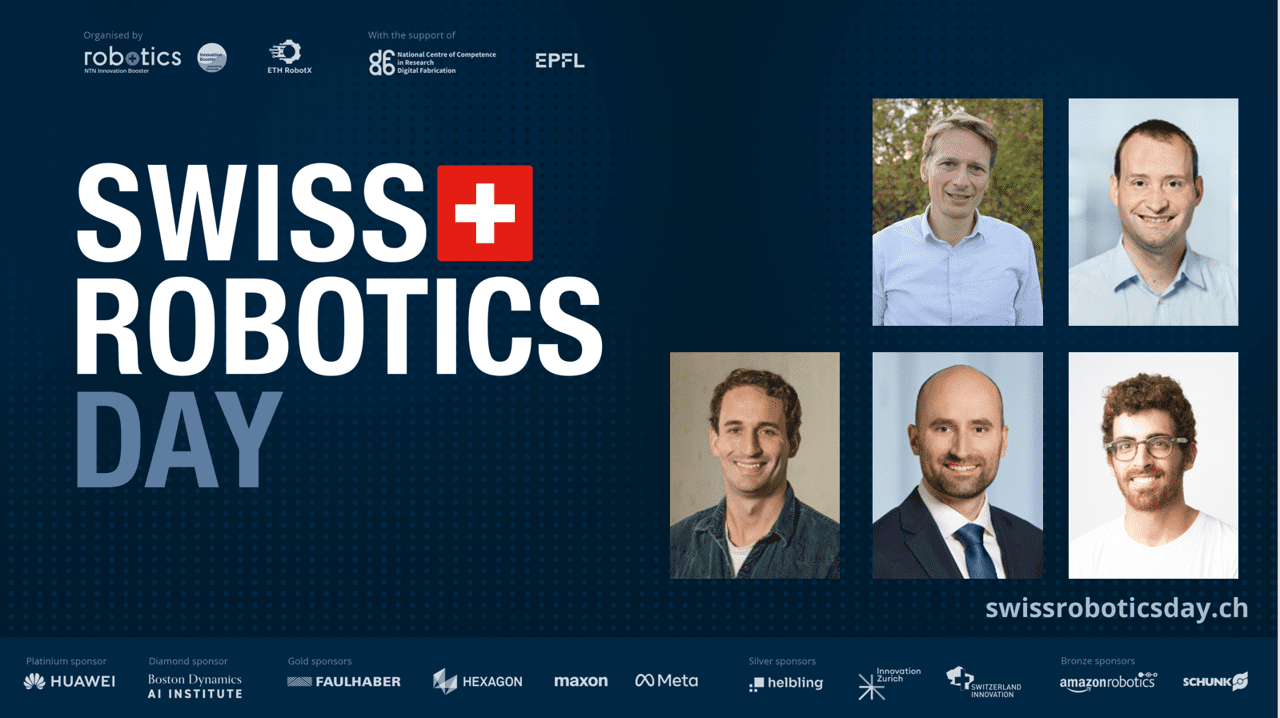 Tobias Bonwetsch is co-founder of Rematter, where he wants to help transform the construction industry towards a circular and low carbon future. Previous he was managing director of ROB Technologies, a consulting boutique that provides solutions that enable highly flexible robotic fabrication processes for the efficient production of building components. He completed his Ph.D. on the topic of robotically assembled brickwork at ETH Zurich. Prior to founding ROB Technologies, Tobias has been a long-time collaborator of Gramazio Kohler Research, performing pioneering research at the interface of robotics and construction, with a focus on integrating automated assembly processes into the architectural design process.
Dr. Christophe Chautems is the Chief Technology Officer and co-founder of Nanoflex Robotics.
Christophe's primary area of expertise lies in examining the magnetic manipulation of catheters and microrobots to enable the precise navigation of medical devices within a complex vascular system.
Prior to Nanoflex Robotics, Christophe was a prominent robotics researcher at ETH Zurich, a leading research university, in Switzerland. He joined ETH Zurich's prestigious robotics lab as a PhD candidate where he worked on shaping the future of magnetic navigation technology for medical applications. Christophe obtained his PhD in 2019 from ETH Zurich.
Furthermore, as part of his Master's program, he spent two years working on an autonomous planetary rover navigation project at the NASA Ames Research Center in California and the European Space Agency. His early applied research on space exploration ignited his passion for autonomous robotics systems and its potential in helping humankind.
Christophe is an avid snowboarder. Growing up in Lugnorre, a small village in the French-speaking part of Switzerland, his deep curiosity about nature's ecosystems led him on a path to embrace the interdisciplinary connections found in robotic systems.
Hendrik Kolvenbach is a Senior Scientist at the Robotic Systems Lab of ETH Zurich and CEO of the Startup UpCircle. His mission is to boost sustainability efforts by leveraging the most advanced technology from Robotics and Machine Learning. He obtained his PhD in Robotics from ETH Zurich in 2021 and his M.Sc. and B.Sc in Mechanical Engineering from RWTH Aachen in 2014 and 2013, respectively."
Robert Katzschmann is an Assistant Professor of Robotics and Head of the Soft Robotics Lab at ETH Zurich. Robert is a member of the ETH AI Center and the Center for Learning Systems at ETH-MPI. His work focuses on creating musculoskeletal robots made of soft and living materials to achieve new capabilities in locomotion and object manipulation. Before joining ETH, he was the CTO at Dexai Robotics and a Senior Applied Scientist with Amazon Robotics. He received his PhD in Mechanical Engineering from MIT (2018). His research in soft robotics is funded by the Swiss National Science Foundation and Industry. His work has received best paper awards at premier conferences and journals and he serves as an editor for IJRR, IROS, ICRA, and RSS.
Eliott Sounigo, co-founder of Layer3d, is a researcher at the intersection of architecture and digital fabrication. Affiliated with Gramazio Kohler Research at ETH Zurich's Chair of Architecture and Digital Fabrication, Eliott honed his skills in an architecture+digital fabrication office, gaining deep on-site insights. Observing age-old building methodologies, he's driven to innovate within the construction sector. At Layer3d, Eliott spearheads the development of a cutting-edge construction robot capable of on-site surface finishing. Together with his team, he's reshaping construction practices by digitizing processes and championing efficiency and safety for a sustainable future.
Max Erick Busse-Grawitz 
Head of Technology Transfer, Maxon Group
Max Erick Busse-Grawitz currently is the Technology Transfer Manager at maxon. He holds a master's degree in electrical engineering from the Swiss Federal Institute of Technology ETH in Zurich, with a specialization in medical technology and radio frequency engineering. He also holds an MBA from the University of Maryland and GSBA Switzerland. Max Erick's career started at Bruker Biospin, as an RF engineer on ultra-low noise amplifiers, including low temperature electronics. He then moved on to help build up a new particle accelerator at the Paul Scherrer Institute, responsible for the high-power RF systems for the Swiss Light Source. His next career step was in Central Switzerland, building up and leading the Sensors & Systems group of the newly founded Microrobotics division of the CSEM, a technology consultancy at Alpnach. His work included, among others, work on robots, controls, amplifiers, and Artificial Intelligence for optical pattern recognition and for chemical analysis. He is also a part time teacher at the University for Applied Sciences in Lucerne. After six years at CSEM, he was hired by one of his major clients, maxon motor. There he led the Encoders & Sensors group, built up the Mechatronics group and is now responsible for technology transfer which involves technology scouting, consultancy, as well as partnerships with academia, high-tech start-ups and think tanks.
Jonas Eichenberger 
Head Development Robotics, Helbling Technik AG
Jonas Eichenberger is leading the robotics development team at Helbling Technik, a leading innovation partner for the development of complex systems for a large variety of industries. With his interdisciplinary team and together with their clients, they are bringing innovative and robust robotic applications into the real world with focus on autonomous mobile robots, advanced end-effectors and algorithms.
Jonas studied mechanical engineering with focus on robotics and control at ETH Zürich and develops since over 7 years novel robotic and complex mechatronic products at Helbling Technik in Zürich
Jonas Grossenbacher
CEO, FAULHABER SA 
Jonas Grossenbacher is managing director of Faulhaber SA, consisting of 4 sites in Switzerland (present in canton TI, NE and SO).
Before the merge of the Faulhaber Swiss site into Faulhaber SA, he was CEO of Faulhaber Precistep SA in La Chaux-de-Fonds.
Jonas holds a PhD degree in Microtechnology from the ETH Lausanne, and is giving a high priority to the collaboration opportunities between the schools/universities and the company.
Martin Sturzenegger
Managing Director, Switzerland Innovation Park Zurich
Martin Sturzenegger is responsible for the operational management and development of the Innovation Park Zurich, as Managing Director of the Foundation.
Previously, he was CEO of Säntis-Schwebebahn AG, where he was able to successfully implement a turnaround. Before that, he was CEO of Zurich Tourism and was able to achieve substantial growth in tourism and the hotel industry. Before his years in Zurich, Martin Sturzenegger worked in the Executive Board of the Rhaetian Railway in Chur, as Head of Sales & Marketing, and before that at the SBB in Bern, where he was responsible, among other things, for Strategic Marketing and Online Channels, such as sbb.ch or SBB Mobile. He started his career at Swissair.
His work has received multiple awards, for example a Milestone Award twice (Grand Tour of Switzerland, FOOD ZURICH), an ADC Award four times and a Best of Swiss Web Award over a dozen times.
Martin Sturzenegger holds an MBA from the University of Manchester and a degree in Business Administration from University of Applied Sciences Zurich HWZ. In addition, he has been able to complete a Master's Degree (MAS) in "Strategic Design" at the Zurich University of the Arts ZHdK.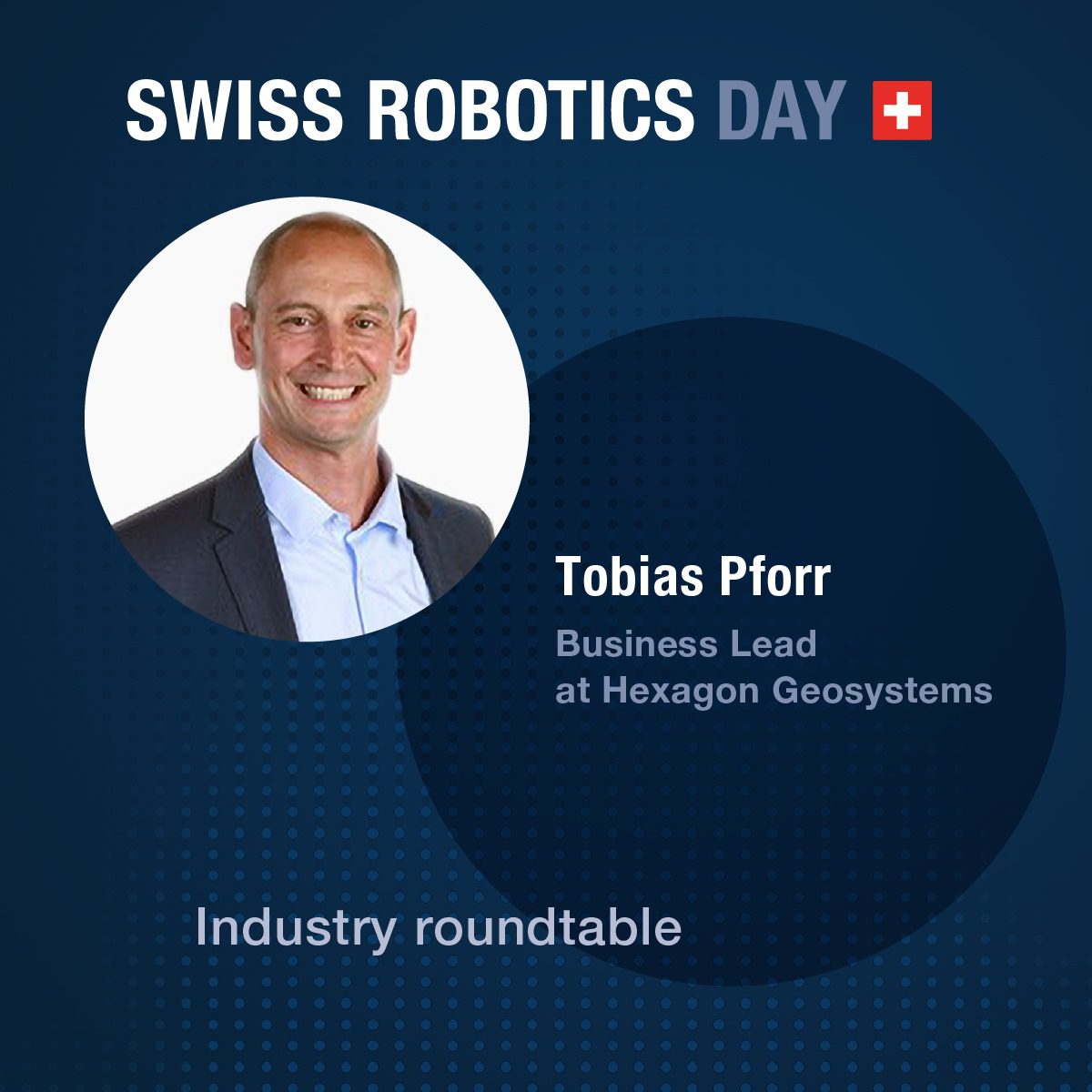 Tobias Pforr
Business Lead, Hexagon Geosystems
In his role as Business Lead at Hexagon Geosystems, Tobias integrates technology, business, and people as he spearheads market development for the Leica BLK2FLY autonomous flying laser scanner. With over a decade of experience, Tobias assists companies in exploring new ventures and shares his expertise as a master's level university instructor in Innovation & Strategic Management. Beyond the office, Tobias enjoys staying active, exploring the culinary scene and spending time with friends and family.